Brand NEW Design, More Interior Space and Serious Protection...
New DESIGN, same proven Quality
A unique low profile front face and a more shallow body offers
more interior space conventional designs without compromising security.
-3 sizes to choose from
Body and Door
The body and door are constructed with Megasafe's high-security
complex composite matrix material forming a barrier able to resist attacks by various mechanical and electro-mechanical tools available today.
-Body barrier thickness: 2" (50mm)
-Door barrier thickness: 1.57" (40mm)

Features:
Manganese anti-drill hard steel plates protect the locks and vital areas

A smooth operating gear driven mechanism extends chrome plated bolts 1.2" 30mm into individual bolt chambers.
An adjustable shelve standard on all 3 models allow vertical adjustment by every 2" (50mm)

Hinges are manufactured of a solid steel block and allow opening the door to 180°

2 holes for anchoring on bottom of the safe for securely bolting down the safe to the floor
Lock options:
The euroline safes are fitted with 2 independent high-security locks:
a user friendly electronic lock and a double bitted mechanical key lock together they offer a superior level of security
Electronic lock features:
1 Manager Code
1 User Code
Time Delay function up to 99min can be optionally set which enable a delayed opening of the safe lock and door if needed
Wrong try penalty delay resists possible code guessing
Fire Resistant
the safes composite construction offers limited fire protection of 1 hr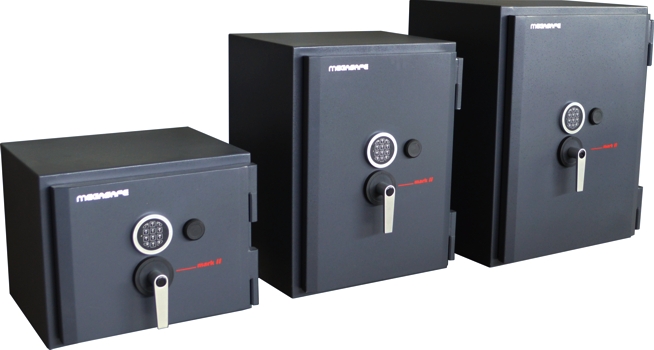 Size 65                                      Size 75

Size 40